Floor supported by pantograph jacks
Mobile Floor on Pantograph A-frame jacks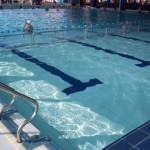 This is the floor system that we install the most for leisure, sports and general use pools. It can cover either all or only part of a pool. If it covers only a part, it must be equipped with a side skirt blocking access to the underside of the floor, unless this function is provided by a hinged flap wall. This Pantograph mechanism resembles that of an old A-frame car jack. If needed, it can also be equipped with telescopic hydraulic arms when the depth range to cover is important i.e. diving pits. We can also provide variable slopes on the mobile decking (up to 6%) by using multiple synchronized motors.
The number of rails/rods required across the bottom of the pool depends on the size of the platform floor deck. For example, a floor 8 meters long will typically require two guide rails/rods whether the pool is 10m, 12.50m or 15m wide. Usually the rails are set across the pool length, one rail sitting close to the end of the pool, and the second one, most often, below the side skirt hinge. This leaves a wide space between the rails under the floor, allowing a regular cleaning with a robot.
This video shows in detail the operation of a mobile floor on a pantograph jack.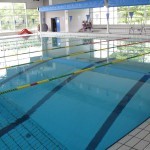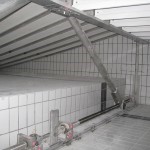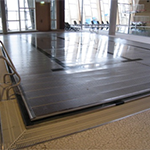 Download the description