Hinged flap wall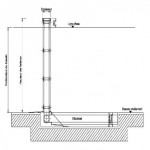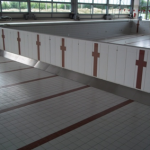 This functions and pivots in the same manner as a door. The hinge is fixed on the bottom of the pool, to which the wall axle is fixed. The axle on which the wall sits passes through the side wall of the pool basin to a motor in the technical gallery. This motor drives the axle to rotate the wall into its upright vertical, or closed horizontal position.
The hinged wall operates in dry conditions as well, allowing full operation when the pool is drained out and empty. This allows easy access for inspection cleaning and maintenance of the wall elements and other areas of the pool.
The flapwall's thickness is between 25 and 30cm in order to reduce its impact on the pool depth in its resting area. It can be equipped with removable brackets allowing temporary decking during competitions. It is usually specified to rise 30cm above the water level in its upright position and is sturdy and solid enough to withstand the forces generated by swimmers bearing against the wall when turning.
Download the presentation Download the description
The first tests on our flap walls at the National Center for Military Sports (Centre National des Sports de la Défense –CNSD) in Fontainebleau
The sporting pool of 50m x 20m is equipped with a hinged flap wall (also called mobile wall). This wall is made of two parts that function separately, allowing one to portion 4 corridors in 2 times 25m while the other 4 corridors can stay in their 50m configuration.
This first video shows the folding down of one half wall in real time (only 1mn 53s)
The second video shows the folding down of the second half wall in real time (only 1mn 54s)
The third video shows the rising of both halves together  in only 2mn 03s
The only handling required for all those phases is one person pressing on a push-button.